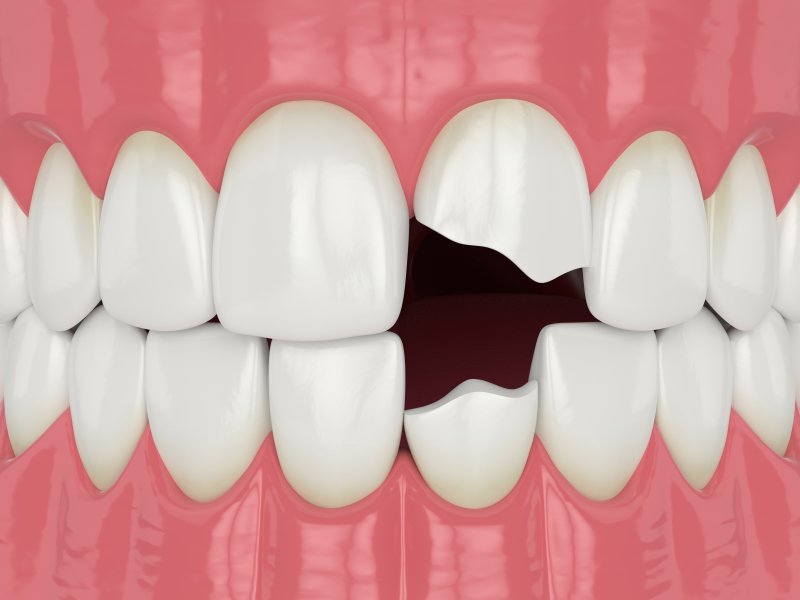 If and when you chip one of your teeth, you might be tempted to brush it off at first. "After all," you may think, "It'll just heal on its own!" Unfortunately, this isn't the proper reaction. You see, a chip in your pearly whites won't heal; it doesn't have that ability. The only way to fix the issue is with professional dental treatment. Otherwise, you're likely to deal with unpleasant side effects. Read on to learn why a chipped tooth in New Orleans won't heal and how a dentist can solve the problem.
Why Won't a Chipped Tooth Heal?
Of course, it's understandable to think a tooth chip could heal. If skin, bones, and organs can recover, why not teeth? Even so, your body can't undo something like that.
In fact, bodies can only heal parts of themselves with blood cells. Your enamel, however, doesn't have any. Rather than the red stuff, it's mostly made of calcium phosphate. For that reason, your tooth's top layer can't recover parts that chip away. It can only re-mineralize enough to fight cavities or infections.
What Happens If You Leave It Alone?
Now, your next reaction to a chipped tooth could be to leave it alone. This idea, though, is equally wrong-headed.
Left untreated, your tooth chip will trigger long-term health problems. It may, for example, cause symptoms like discomfort, sensitivity, or severe pain. Over time, bacteria could even get inside the chipped tooth and infect its pulp. If that happened, your remaining options would be to get root canal therapy or tooth extraction.
How a Dentist Can Fix It
To avoid the outcomes above, getting treatment from your local dentist is better. They'll have several treatments available to correct the problem, including:
Dental Bonding – Thanks to its tooth-colored resin, this procedure could hide your chip from view. Plus, the material used would also keep bacteria away.
Porcelain Veneers – These thin, porcelain layers can cover all sorts of smile flaws, including tooth chips. Furthermore, their material is highly durable and protects the tooth's front surface. Given proper care, you could even use them for fifteen or even twenty years.
While you might wish a chipped tooth in New Orleans could fix itself, that just isn't possible. Therefore, talk to your local dentist about treatment options to heal your smile.
About the Practice
Camenzuli Dental Excellence is based in New Orleans, LA. As led by Dr. Robert A. Camenzuli, our practice will give anyone a lovely and healthy smile. To that end, we offer various preventive, cosmetic, and restorative dental treatments, including emergency procedures. Our office is also a certified provider of both traditional metal braces and Invisalign clear aligners. For more information or to book an appointment, you can reach us on our website or by phone at (504)-584-4225.