Crowded Teeth and Braces – Uptown New Orleans, LA
Giving Your Smile the Space It Needs
Crowded teeth are much more common than you might think. Many adults struggle with this type of orthodontic problem, many of whom never seek proper treatment. If you are one of the many who suffer from overcrowding and poor oral health as a result, Dr. Camenzuli, General Dentist, and his team can use braces in Uptown New Orleans to give your smile the space it needs. By using metal braces, you can watch as your teeth begin to shift in a way that creates necessary space for a more aesthetically pleasing and overall, healthy smile. Contact us today to schedule a consultation.
What Can Happen if Crowded Teeth are Left Untreated?
Unsure if having your crowded teeth treated is necessary? Apart from the unpleasant appearance overcrowding can cause, there are a host of other problems that can develop as a result, such as:
Tooth decay
Gum disease
Cavities
Misaligned bite
Crowded teeth make it nearly impossible to effectively clean between your teeth, making you more likely to develop any of the above-mentioned dental problems. Should plaque and tartar start to grow and spread beneath the gum line, you are not only looking at increase oral health issues but also possible health conditions that include heart attack, stroke, diabetes, and even Alzheimer's or Dementia.
How Can Braces Help Treat Crowded Teeth?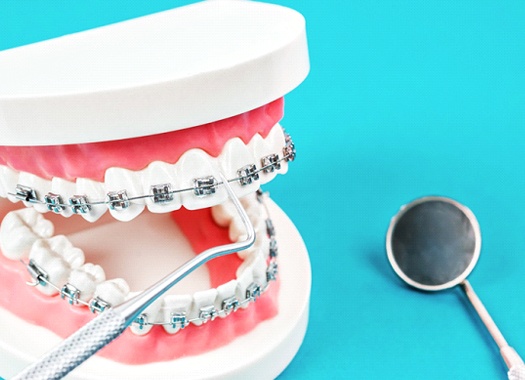 Whether you've had braces in the past or this is your first time, metal braces make it possible to give your teeth the space they need without creating gaps or an unpleasant look. Your cosmetic dentist in New Orleans will start by examining your smile and creating a personalized treatment plan.
Once you are ready, he will begin by bonding the metal brackets to the surfaces of your teeth before threading a metal wire through the brackets. This will work to shift your teeth in the right direction as you move throughout your treatment.
It will be necessary for you to keep your scheduled appointments with Dr. Camenzuli, General Dentist, as he will need to adjust your wire each time you visit. The pressure from the adjustment will move your teeth into the right position. If at any point during your treatment he believes rubber bands or additional orthodontic appliances could be of assistance, you can expect to have these added to your treatment plan.
In most cases, patients wear braces for an average of 12-24 months; however, this is dependent upon the complexity of your individual case.