Dental Implants – Uptown New Orleans, LA
Permanent, Comprehensive Tooth Replacements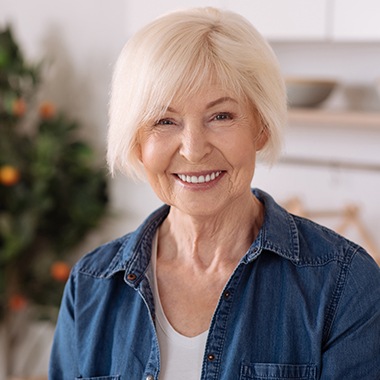 If you've lost a tooth or two, you already realize that those gaps can alter how your smile appears, but did you realize that there are other health issues that come along with tooth loss? The other teeth can spread out to compensate for the gap, increasing the likelihood of jaw pain, headaches, and inefficient chewing for digestion. Also, when a tooth's root is gone, the body sends the nutrients that went to the supporting jawbone elsewhere. This weakens the jawbone and support that the remaining teeth have, potentially leading to additional tooth loss. The good news is that Dr. Camenzuli offers dental implants in Uptown New Orleans, LA, which replaces the tooth structure in its entirety. Want to learn more about dental implants? Contact our Uptown New Orleans dental office, and we'll schedule a consultation for you.
Why Choose Camenzuli Dental Excellence for Dental Implants?
Dental Implant Placement & Restoration Performed In-House
Flexible Financing Options Available
Dentist Is a Fellow of the International Congress of Oral Implantologists
What Are Dental Implants?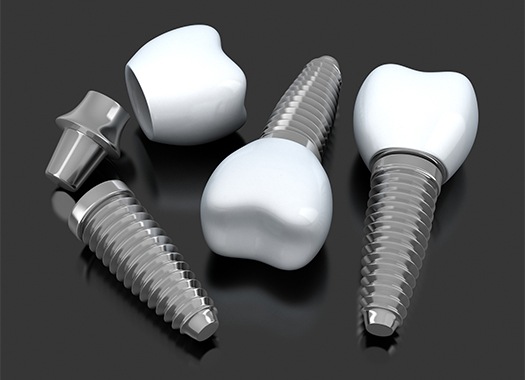 A dental implant is the most comprehensive solution for replacing missing teeth. Instead of just replacing the crown, or top portion of the tooth, dental implants go deeper than the surface. Using biocompatible titanium and porcelain prosthetic materials, we can recreate the missing tooth from root to crown. By replicating the tooth's structure and integrating with the jawbone, a dental implant is able to resolve virtually every problem that tooth loss brings.
The 4-Step Dental Implant Process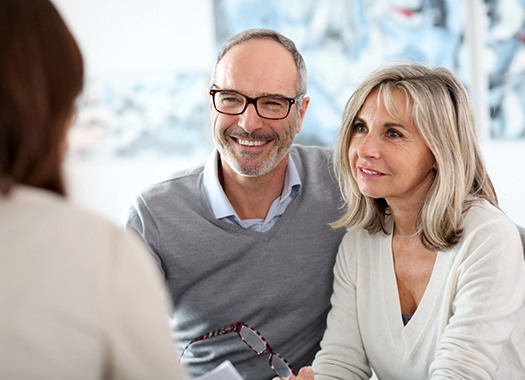 Many other dental offices have to refer patients to a specialist for the complex placement procedure, but that's not the case here at Camenzuli Dental Excellence. You won't have to worry about going to another dental office because Dr. Camenzuli can perform every step of the dental implant process with skill and precision, saving you precious time and ensuring successful treatment.
That said, getting dental implants is a process that takes multiple appointments over the course of a few months. However, their reliability, longevity, and other benefits ensure they're worth the wait. Each patient's treatment differs slightly, but here are the four basic steps you can expect:
Initial dental implant consultation – Dr. Camenzuli develops your personalized treatment plan.
Dental implant surgery – Implants are placed at precise locations in your jaw.
Dental implant osseointegration/abutment – After your implants have finished gradually merging with your jawbone, we place metal connectors called abutments.
Delivery of dental implant restorations – Your custom crown, bridge, or denture is placed atop your abutments.
Benefits of Dental Implants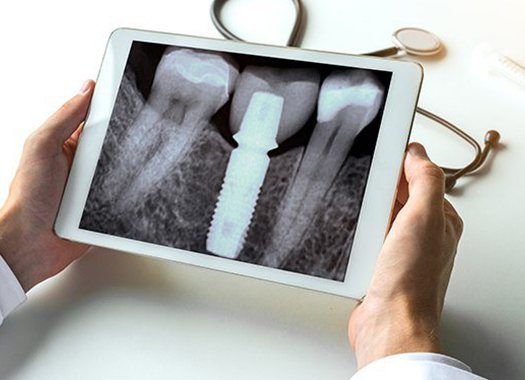 Compared to other replacement options, such as traditional dental bridges and dentures, dental implants have many advantages, including the following:
Increased confidence —you don't have to worry about your replacement teeth slipping when you eat or speak.
Longer lifespan —dental implants have been known to last well over 30 years!
More stability —instead of relying on the surrounding teeth for security, dental implants are firmly embedded in the jawbone.
Natural appearance —with a strong jawbone, your face can retain its youthful shape.
Better support for remaining teeth —dental implants keep the jawbone stimulated, giving your healthy teeth added reinforcement.
Stronger biting force —dental implants can give you about 70 percent of your original biting power.
Who Dental Implants Can Help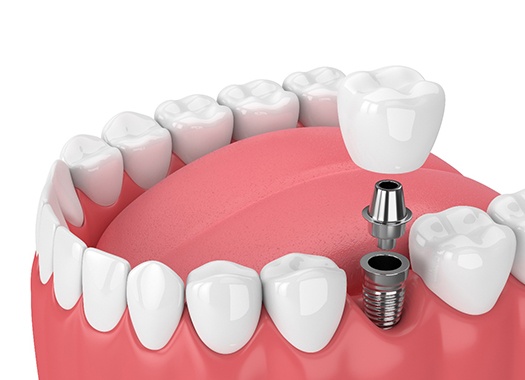 Most patients qualify for dental implants. Basically, you need to be in good oral health and have a jawbone with enough density to grow and surround the implant. During your consultation, Dr. Camenzuli can evaluate your mouth to see if you are a good candidate for the procedure.
Missing One Tooth
A single lost tooth can be replaced by one dental implant. The titanium post is surgically inserted into the jawbone, and then an abutment and dental crown are later attached. Unlike a dental bridge, which anchors to the surrounding teeth, the dental implant doesn't negatively impact the teeth around it.
Missing Multiple Teeth
Depending on how many teeth need to be replaced and their location within the arch, we can secure a bridge or partial denture onto dental implants. Traditionally, these restorations rely on the remaining teeth for stability, but we can attach your bridge or partial denture to just a couple of implants, giving you far more security.
Missing All of Your Teeth
Even if you've lost every tooth in an arch, you can benefit from dental implants. Using just four to six strategically placed posts, we can keep full dentures in place and allow you to bite and chew just as confidently as you did before tooth loss.
Learn More About Implant Dentures
Although dental implants traditionally involve a healing period of several months in between placing the posts and attaching the abutment and restoration, you may not have the time to wait for your restored smile. We can customize your treatment with All-on-4/Teeth-in-a-Day, which takes advantage of the strongest part of your jaw, to give you your replacement teeth right away.
Learn More About All-on-4
Understanding the Cost of Dental Implants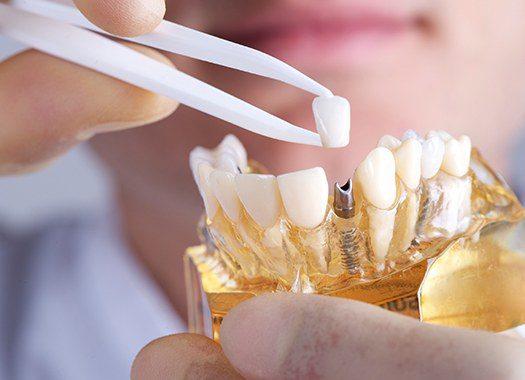 At first glance, dental implants are clearly more expensive than traditional dentures or bridges. However, upon closer inspection, you'll see that dental implants are actually the smarter financial choice. Traditional bridges and dentures need to be adjusted and replaced about every five to seven years, but implants can last for over 30 years. The cost of these replacements adds up, surpassing the initial cost of implants. Basically, you can consider your dental implants a long-term investment in your smile.
At your consultation, we'll evaluate your mouth and review your treatment options. Your implant treatment plan will be unique to you, adjusting according to the number of implants, the type of restoration, and the location of the implants. These factors will impact the associated cost. Our team offers several financial options to make dental implants more easily fit within your budget, and we will happily explain them to you during this initial visit.
Dental Implant FAQs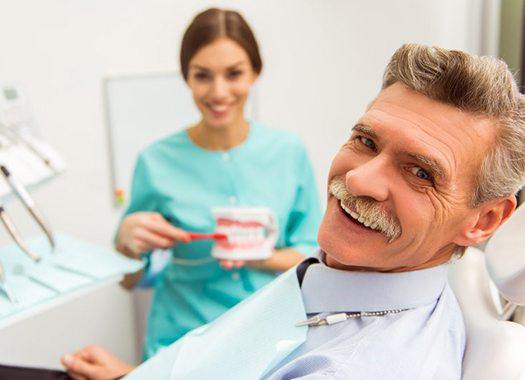 Are you considering dental implants in Uptown New Orleans? If so, you probably have a few questions. Below you'll find a list of some of the most commonly asked questions Dr. Robert Camenzuli and his team get about this modern tooth replacement option. Read on to find out more!
How Are Dental Implants Cared For?
Unlike natural teeth, dental implants aren't susceptible to tooth decay or cavities. However, they still need to be cared for. Keeping the surrounding gum tissue free of plaque and bacteria is essential for keeping your dental implant in place for decades to come. Thankfully, you can care for it as easily as you do the rest of your smile! A simple yet effective routine of brushing your teeth for two minutes twice a day, flossing daily, and using mouthwash regularly is all that's needed to take care of your newly rebuilt smile.
Will I Have to See a Specialist to Have My Dental Implants Placed?
At Camenzuli Dental Excellence, we are proud to offer start to finish convenience for dental implants. Unlike other Uptown New Orleans dentists who need to refer their patients to a specialist, Dr. Robert Camenzuli can perform every step of the dental implant process right here in his practice. As a Fellow of the International Congress of Oral Implantologists, he's restored countless smiles with dental implants over the years. He'll be with you through the consultation, placement, and restoration to personally ensure your procedure goes as smoothly as possible.
How Long Will It Take for My Dental Implants to Heal?
After placement, a dental implant undergoes a process called osseointegration. This is where the titanium post that's been placed into your jaw will fuse with the surrounding bone tissue to form a rock-solid foundation. Depending on factors like your health, age, and number of dental implants, this may take six to eight months. However, you may not have to wait for your new smile if you're a candidate for All-on-4/Teeth-in-a-Day treatment! These procedures rely on the strongest part of your jaw and allow you to enjoy your new teeth as soon as you walk out of your appointment!
Will My Insurance Cover Dental Implants?
Unfortunately, most dental insurances will not cover dental implants. However, we're dedicated to making complete, functional, and healthy smiles an achievable goal for everyone. That's why we offer dental financing to help break up the cost of your treatment into smaller, more manageable payments with low- or even no-interest. We offer financing options through CareCredit and the Wells Fargo Health Advantage® Card. Our highly experienced and friendly team can walk you through the application process for either and answer any questions you may have.
Do you have more questions about rebuilding your smile with dental implants? Feel free to reach out to us with your inquiries and we'll be happy to help!