Single Tooth Implants – Uptown New Orleans, LA
Rebuild Your Smile Tooth By Tooth
Missing a tooth can be a difficult experience on its own, either because you feel self-conscious about your appearance or you're worried that your smile will forever be incomplete. With the help of Dr. Camenzuli and his team at Camenzuli Dental Excellence, that doesn't have to be the case! He's able to place and restore dental implants entirely in-house, so you don't have to settle for a dental bridge or denture if you don't want to. To get started, call his office to set up a consultation!
Your Options for Tooth Replacement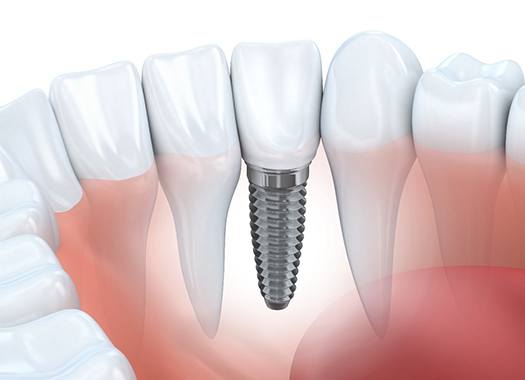 You have two options to consider if you want to replace a single tooth. This includes dental implants and fixed bridges. While both can complete your smile and prevent neighboring teeth from shifting out of place, there is one key difference between the two.
Fixed bridges do not require surgery to place, but do require the modification of neighboring healthy teeth. The bridge consists of a series of crowns fused together, with crowns in the center effectively bridging the gap and adjacent restorations attaching to existing teeth for long-term stability and function.
Single tooth implants achieve the same goal in terms of esthetics, but they take tooth replacement further by replacing the root portion as well. Once placed, a customized, porcelain crown is attached, ensuring your smile looks seamless in appearance.
How Do Single Tooth Implants Work?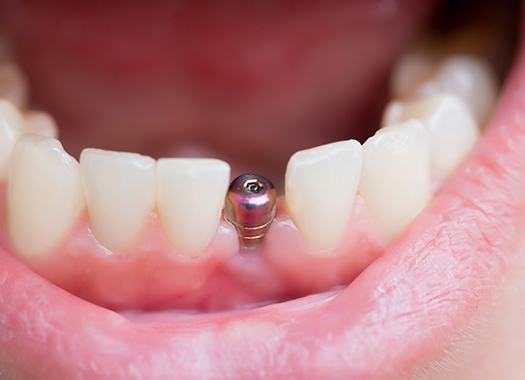 Because dental implants are made from titanium, they can be safely placed into your mouth and begin integrating with your jaw bone. After you've been provided effective anesthetic to eliminate discomfort, Dr. Camenzuli makes a small incision in your gum tissue, then a small hole in your jaw so the implant can be placed. Once placed, the wound is stitched close and given about four to six months to heal. When the implant is completely healed, an abutment can be placed on top. This connector provides added stability to the permanent restoration. After one final appointment, a customized dental crown is placed on top. Since we take the crown's color, shape and size into account, only you and our team will be able to tell which tooth was replaced.
How You Can Benefit from Single Tooth Implants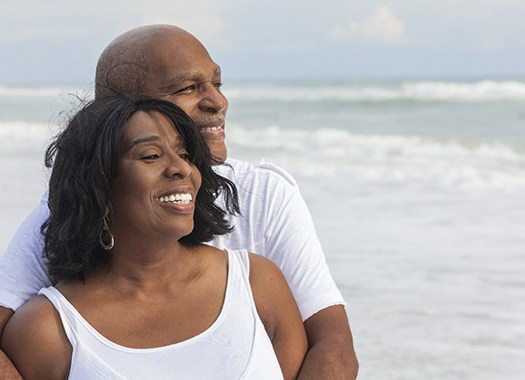 No Need to Touch Remaining Teeth: Dental implants are strong enough to hold dental restorations entirely on their own. This means we won't have to modify or remove any existing enamel just to fill the gap in your smile. This cannot be said for fixed bridges.
A Tooth That Looks and Feels Natural: Not only will your replacement tooth look exactly like your previous tooth, but it will feel like it as well. Even though it doesn't have the same roots as your other teeth, it will act and function the same.
Easy Maintenance: Dental implants do not need any special product or device to ensure they do not develop plaque. In fact, the restoration itself can't decay because it's made from inorganic material. Simply brush, floss, and maintain regular exams and cleanings at our office to keep them healthy.
Longevity: When you want a reliable tooth replacement that truly lasts, dental implants are the clear winner. They can last for 30 years and longer, if not for the rest of your life.