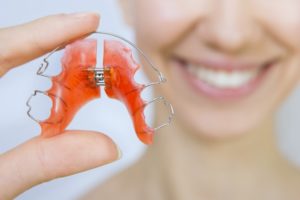 When you get your braces off, there is no better feeling than running your tongue over your newly brace-free teeth. However, your treatment isn't done just yet. To protect the time and money you just spent on your aligned smile, it's important to wear a retainer from your dentist in Uptown New Orleans. But, unlike your braces, this oral appliance isn't fixed to your teeth, which requires some commitment and responsibility on your part. Read on to learn more about the importance of wearing a retainer and what you should do if your teeth become crooked after braces.
The Importance of Wearing a Retainer
Retainers do exactly as their names suggests—they retain your teeth, keeping them from sliding out of place. Especially immediately after getting your braces off, your teeth are still incredibly prone to movement. This is because of a process called bone remodeling that allows the teeth to shift. In some cases, older patients wear retainers because their jawbones are weaker, which can lead to shifting teeth. However, consistent use of a retainer can help with natural misalignment that can occur.
A retainer is usually composed of an acrylic plate attached to wires that help keep your teeth in place. After your braces come off, you'll wear your retainer whenever you're not brushing, flossing, or eating. Eventually, you can switch to just nighttime use, and for some cases, you can stop treatment completely in the future. After spending a lot of time and money to achieve the smile you've always wanted, a retainer will ensure that your results are permanent.
Didn't Wear Your Retainer? Here Are Your Next Steps
If you avoid wearing a retainer for even a few days after getting your braces off, your teeth can shift to the point that your oral appliance won't even fit your smile. If this occurs, you should call your dentist immediately. The most important step you can take is getting in contact with your dentist quickly because misalignment will only grow worse over time. In most cases, they will be able to make slight tweaks to your retainer, allowing it to fit your smile and maintain your teeth. However, for more complicated cases, they may recommend wearing clear aligners for a few months to get your teeth back on track. Then, you must be committed to wearing your retainer after the process. If you completely ignore your retainer for over a year, your whole orthodontic treatment may need to be restarted.
Without your retainer, the time and money you spent on braces could be for nothing! Remember this useful information to ensure the success of your straight smile!
Meet the Dentist
Dr. Robert A. Camenzuli makes dentistry as convenient as possible by offering high quality braces and retainers at the same location as your routine checkups and cleanings. He has seen the effect that not wearing a retainer can have on teeth, which is why he wants to stress the importance of following treatment instructions. For any questions, he can be reached through his website or by phone at (504) 895-3400.