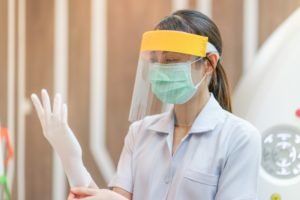 In order to provide excellent dental care during the coronavirus pandemic, dentists are raising their already high standards of sanitation and infection control. Like many other contagious sicknesses, COVID-19 is transmitted when infected respiratory droplets encounter another person's mouth, nose, or eyes. Part of the new advanced COVID-19 safety protocols is to utilize personal protective equipment to guard these vulnerable areas and prevent the spread of infection. Read on to learn more about four important items your Uptown New Orleans emergency dentist wears to keep their practice clean and their patients safe.
Disposable Gloves
Since a dentist's hands come in close contact with all their patients' mouths, disposable gloves play a key role in keeping everyone involved healthy. Before treating a patient, your Uptown New Orleans dentist washes their hands and puts on a new pair of gloves. On their own, gloves do not protect against the COVID-19 virus. However, they prevent the spread of infection from a dentist's hands to their patients' mouth as well as between patients. After administering care, your dentist throws out their gloves, washes their hands, and puts on a new pair of gloves before treating the next patient.
KN95 & ASTM Level 3 Masks
Many dental procedures produce aerosols and droplets that may be contaminated with bacteria and infectious particles. To protect their nose and mouth, your Uptown New Orleans dentist may wear KN95 and ASTM level 3 masks. Face masks with a high level of filtration serve a dual purpose. Not only do they protect the wearer from certain airborne and fluid germs, but they also prevent the wearer from spreading any germs themselves.
FDA Approved Face Shields
Aside from the nose and mouth, the coronavirus particles can also enter through the eyes. A face shield is a clear plastic visor that covers a majority of the face, including the mouth, nose, and eyes. They can be especially helpful in a dental setting when used in conjunction with an N95 mask during procedures that cause aerosols and splatter. If a face mask is non-disposable and cannot be replaced between patients, it is cleaned with hospital-strength disinfectants instead.
Single Use Protective Coats
In some cases, a clean, disposable coat may be used as an extra barrier to minimize the spread or absorption of airborne particles. Similar to gloves, this piece of personal protective equipment only helps stop the spread of germs when replaced regularly, especially between patients. Single use coats are typically only worn during treatments that are likely to generate splashing or splattering.
Thanks to their high standards of infection control, dental practices have always been some of the cleanest places in the country. If you need to visit your dentist during the COVID-19 pandemic, you can feel confident that they are taking all the extra steps necessary to keep you and your smile healthy.
About the Author
During these uncertain times, our goal at Camenzuli Dental Excellence in Uptown New Orleans, LA is to add peace-of-mind to the friendliness and clinical excellence you have come to expect. To safeguard the health of his patients and staff, Dr. Robert A. Camenzuli has implemented 19 additional steps to his already ambitious standards of infection control. His ongoing commitment to your safety will evolve with the times in order to keep you as safe as possible while receiving the treatment you need. If you have any questions or concerns, feel free to contact him via his website or at (504) 895-3400.