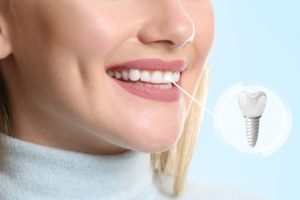 If you have a missing front tooth, you might be wondering what your options are for replacing it. After all, you want your solution to not just look great, but to also function normally. Fortunately, dental implants can easily fit the bill! Keep reading to learn a little more about how this awesome tooth-replacement solution can replace lost front teeth just as easily and effectively as molars.
How Dental Implants Replace Missing Front Teeth
Dental implants are considered the gold standard among tooth replacement options since they can effectively restore lost teeth in terms of look, feel, and functionality. This is due to how they're inserted; a titanium post is surgically embedded into the jaw, where it fuses with the bone for unmatched and lasting support. An abutment is attached to the implant post, and a natural-looking and fully functional crown is then secured to the abutment.
As with any dental implant procedure, optimal oral health is required beforehand, and issues such as gum disease or insufficient jawbone density will need to be treated beforehand. That said, the process of replacing front teeth with implants isn't too different from how molars are replaced, and good oral hygiene moving forward is just as necessary for ensuring a lasting solution.
How to Determine If You Need a Front Tooth Implant
The only way to know for certain if you're eligible for a front tooth implant is to visit your dentist for a consultation. Fortunately, front tooth implants are suitable for most patients, although your teeth and jaws must have finished growing and developing. A few reasons for needing a front tooth implant include issues like missing, cracked, loose, or infected front teeth. However, it's worth noting that there are a few things that might influence your potential candidacy, including factors like:
Insufficient jawbone density to support an implant post
Lingering oral health issues that could prove detrimental to implants
The Priceless Benefits of Dental Implants
When you receive a dental implant to replace a missing front tooth, you aren't just restoring a gap in your smile—you're also gaining access to several priceless benefits, such as:
The restoration you're receiving looks and feels completely natural.
Dental implants, whether they're restoring front teeth or molars, don't require any specialized maintenance.
The implants help to preserve and encourage sufficient jawbone density.
They're designed as a cost-effective solution that's intended to last for decades.
You don't have to suffer through life with an incomplete smile; even if the gaps in your grin are due to missing front teeth, dental implants remain one of the best possible solutions for getting your smile and oral health back on track.
About the Author
Dr. Robert A. Camenzuli received his DDS from the Louisiana State University School of Dentistry and has proudly served patients and families in the New Orleans area for several years. He is also a proud Fellow of the prestigious Academy of General Dentistry, a distinction earned by only 6% of all dentists in the US! His practice offers a wide range of services, including restorative options like dental implants. If you have any questions about the article or would like to schedule a consultation, you can contact Dr. Camenzuli through his practice's website or by telephone for assistance: (504) 584-4225.