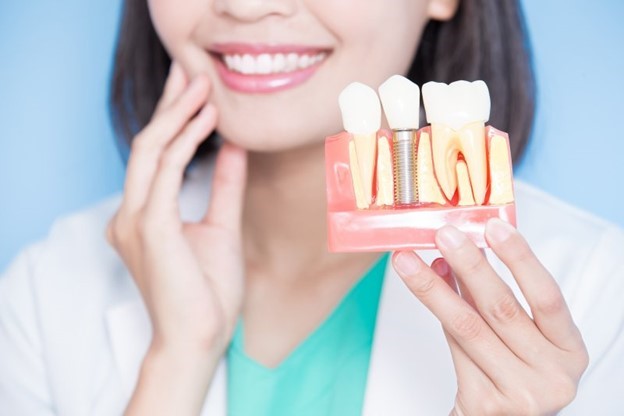 When it comes to replacing missing teeth, there are numerous options available. However, dental implants are one of the most popular. Dental implants are artificial tooth roots made of titanium that are surgically placed into the jawbone to support a dental prosthesis, such as a crown, bridge, or denture. They are widely regarded as the best tooth replacement solution, but why? Continue reading to learn about four reasons why dental implants are considered the gold standard.
#1: They Restore Your Bite
Dental implants use a titanium rod fused to the jawbone and a crown attached to it for support. This creates a stronger foundation than dentures or bridges and translates to a stronger bite force. In fact, research indicates dental implants can restore at least 80% of a patient's original bite, while dentures only restore around 30%.
#2: They Can Help You Maintain a Healthy Jaw
Your body prioritizes the distribution of scarce nutrients, and when you lose a tooth, the jawbone in the affected area may receive fewer nutrients. This may signal to the body that the area is less important, leading to bone loss over time. Compared to other tooth replacement options, dental implants stimulate the jawbone, therefore keeping it healthy and strong.
#3: They are Very Reliable
Despite involving surgery, dental implants have a success rate of over 95% if properly maintained. Dental implants typically last twice as long as other tooth replacement options, and the majority of implants are designed to last for many years. They can last for 20 years with proper care or may even last a lifetime, making them a highly reliable tooth replacement option.
#4: They Give You a Realistic Smile
Dental implants are designed to look and feel like your natural teeth. Additionally, the dental bridge or crown, which is attached to the implant, can be customized to match the color and shape of your existing teeth. This means that once the implant is in place, it will blend seamlessly with your natural teeth, giving you a realistic smile that you can be proud of.
Dental implants offer many benefits compared to other tooth replacement options, making them the preferred choice for many patients. With their ability to prevent bone loss, last for decades, and provide a natural appearance and function, it's easy to understand why dental implants are considered the gold standard of tooth replacement!
About the Practice
Camenzuli Dental Excellence is committed to providing New Orleans residents with high-quality dentistry and exceptional patient care. Led by Dr. Robert A. Camenzuli, the practice offers a wide range of treatments, including dental implants to replace missing teeth. Their team of experienced dental professionals also utilizes state-of-the-art technology and techniques to ensure that their patients receive the best possible care for their oral health needs. If you want to set up a consultation with Dr. Camenzuli or are interested in learning more about getting dental implants, you can visit Camenzuli Dental Excellence's website or call their office at (504) 895-3400.